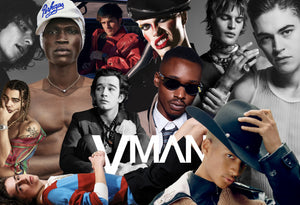 ONE YEAR VMAN SUBSCRIPTION!
The biannual VMAN is the destination for men's fashion. Reflecting the global VMAN reader, V's glossy masculine counterpart delivers an unparalleled mix of trend reports, service-based coverage and celebrity profiles. Since launching in 2003, this long-running men's resource has continued to showcase the best of menswear and offer a curated display of art, film, design, travel, music, grooming, and sports. 
Get every issue of VMAN delivered to you in print the day it hits newsstands! 

Kindly note in the case of multiple covers, subscribers are sent issues at random and are not able to pre-select their covers. 
Note: Subscriptions delivery begins with the 1st subsequent issue after date of purchase. VMAN is a biannual publication, one year subscriptions offer two issues. Subscriptions are final sale.