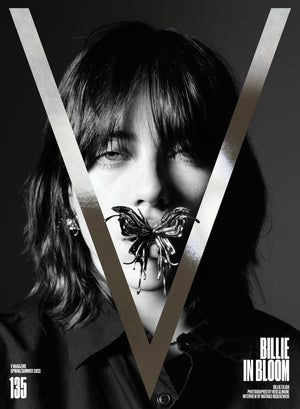 V135 "BILLIE IN BLOOM" BILLIE EILISH
With two studio albums, seven Grammys, and even an Oscar nomination under her belt, it's hard to forget that pop phenomenon, Billie Eilish, was only 13 years old when she was thrust into the world's glaring spotlight. But with the release of her latest album titled "Happier Than Ever", a newly debuted fragrance, and her highly-anticipated Coachella performance in April, we see the now 20-year-old superstar grappling with fame and, perhaps more importantly, returning to herself—as seen on the cover of V135, photographed by Hedi Slimane in L.A., where a meeting of fashion and music's two greatest forces collided. Order your copy of V's Spring/Summer 2022 issue today to see Billie in Bloom! 
And be sure to check out Billie's V121 cover here!  
PRE-ORDER PERIOD (MARCH 2ND - MARCH 25TH)        
All orders purchased during the pre-order will ship by March 26th. 
ON SALE PERIOD (MARCH 26TH)
All orders purchased on or following the on sale period will ship 3-4 business days following the purchase date. 
Please note that all pre-orders are non-refundable and cannot be returned.