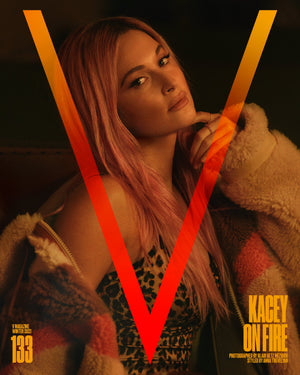 V133 "KACEY ON FIRE" -KASEY MUSGRAVES
Country Music Superstar Kacey Musgraves is V Magazine's V133 Winter Issue: Special Edition Cover Star—Photographed by Blair Getz Mezibov and styled by Anna Trevelyan! 
Having put out five critically acclaimed studio albums since 2013, the 33-year-old Grammy award winning songstress has revolutionized country music by continually pushing its sound and look in new directions. With her most recent album, 'star-crossed', Musgraves furthered her spot as a forerunner in her unique country-meets-singer-songwriter- meets-pop sound. Now with her most personal album to date and her upcoming nationwide concert tour, Musgraves' flame is burning brighter than ever. 
With a limited number of copies available, you don't want to miss your chance to secure this special edition issue covered by Kacey Musgraves. 
PRE-ORDER PERIOD (OCTOBER 9TH - NOVEMBER 5TH)
All pre-orders will ship 2-3 business days following the closing of the pre-order period. 
ON SALE PERIOD (NOVEMBER 7TH)
All pre-orders will ship 4-5 business days following the on sale period. 
Due to the highly anticipated nature of this release, all sales are final!