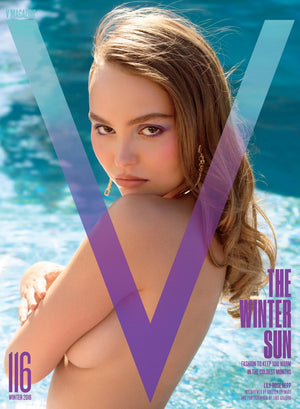 V116: THE WINTER SUN
Like V Magazine itself, our final cover star of the year, Lily-Rose Depp, is on the verge of her 20s. In her interview with friend fellow Chanel ambassador Kristen Stewart, Depp says she's never
felt more independent, and she's looking forward to this typically tumultuous decade with optimism and creative ambition. Captured in raw, real form by friend and collaborator Luke Gilford, Lily-Rose's last editorial as a teen is sure to define this enigmatic Hollywood scion for decades to come. Elsewhere in the issue, we go "Radio Ga Ga" for Rami Malek and get an inside look at Luca Guadagnino's Suspiria. Paloma Elsesser and Ashley Graham give "cheek-to-cheek" a whole new meaning, and haute couture and Cruise 2019 light up the winter season. On the cusp of a new year, it's time to party like it's 1999 - or 2099.