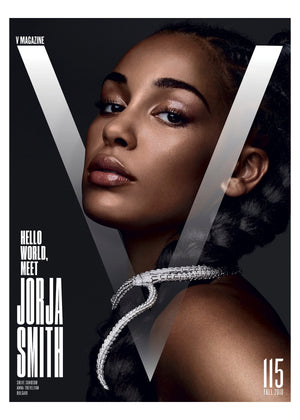 V115: HELLO WORLD, MEET JORJA SMITH
The Gregorian calendar may begin in January, but as followers of fashion, our internal clocks reset every September. So this fall issue, we're toasting to new beginnings. Our cover star, Jorja Smith, is on the precipice of career superstardom. She may be just 21, but to watch her is to detect glimmers of full-blown diva-dom, whether she's melting America's hearts on The Tonight Show or showcasing supermodel-caliber magnetism, rocking little more than Bulgari jewels, on our cover, shot by Sølve Sundsbø.
With Fall/Winter fashion upon us, our roster of all-star teams continues to grow with George Cortina pairing up with Simon Eeles to harness the power of summer coming to an end, Richard Burbridge capturing this season's biggest trend with the help of iconic stylist Patti Wilson, and Chris Colls showcasing this season's best outerwear on 13 of the most iconic supermodels including Christy Turlington, Alek Wek, and Karen Elson.
Our 2018 September issue is a reflection of where we've been and a celebration of what's to come. Welcome to Fall!